novembre 8, 2017
I am a finger pointing to the moon. Don't look at me; look at the moon." Paxal, is a french artist, whose process and progress claim the attention, rather then the explicit featureof the piece itself.
Process being the main media of his work, Paxal seeks the details rather then his quite simple pretexts; claiming the details to be, or accompany, the subject.
History and fiction forges his work with a spontaneous improvisation, indulging his need of maintaining a foot in the invisible worlds (with all its layers, visible indeed).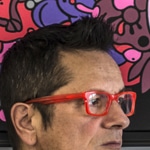 PAXAL